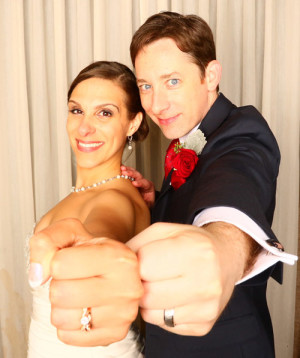 Whether you create artistic experiences or pieces of furniture or you run a restaurant, your audience is the primary reason why you create what you create. How we speak to our audiences— through marketing, during their experiences with us, and in the things we make for them— can influence whether your business is one they love and rave about to their friends or just an afterthought. So you'd better know your audiences wants and needs really well. How well do you know your audience?
These ideas were front and center in my mind over the last few month as I was planning a wedding. My wedding. I got married about two weeks ago, and the process of putting the event together was an amazing example of learning about and speaking to multiple audiences.
Nudging People Who Are On The Fence
One of the the first steps in putting together a wedding is creating your invitation. This is your direct-mail marketing piece: the visual, tangible item that will help convince your invitees to attend your wedding. So who are you inviting?
Your invitees are your audience, and they are not homogeneous. You'll have your close friends and relatives who you can totally bank on be there. These are your invested patrons, your audience that has already bought in. They don't need a big push: just tell them when and where to be and they'll show up. But beyond them, you have people with different degrees of investment. Maybe they don't know you that well, or they live far away, or they used to know you but you've drifted apart. If you want any of these folks to attend, you have to convince them.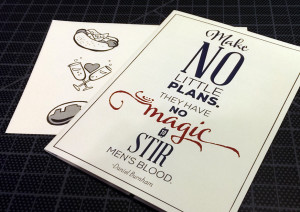 I got married in Chicago, which for our families was a destination wedding. For a big slice of our audience, they would need to put in some time and money to attend, so we needed to convince them that our wedding— our event— was worth their investment. Enter the invitation. We focused our wedding marketing on the hard-to-get prospects by advertising not just the event, but all the perks surrounding the event. For our invitation, I designed a one-piece card that celebrated Chicago. The cover featured a quote from Daniel Burnham, the architect of the Chicago's World Fair. The inside included an illustrated map and a list of fun things to do in downtown. The RSVP card echoed this imagery with drawings of a Chicago hot dog and the Bean sculpture framing some champagne glasses. If you were on the fence about attending a wedding in the big city, all of this was specifically designed to close the deal and get you here.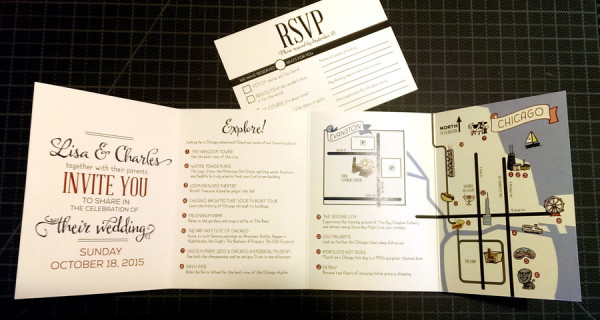 Level The Playing Field
Our audience arrived, a diverse mixture of friends and relatives, some of whom we were close with and others not so much (both personally and geographically). How could we unite them all into a single audience? If your business is staging arts event, like theatre, this should always be on your mind. Not every patron you have knows what theatre is all about. Some may have attended your theatre many times, others might never have stepped foot in a performing arts venue in their life. It's your job to make them comfortable and put them all on equal footing from the moment they arrive.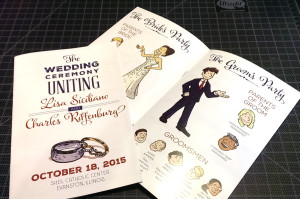 For us, that meant creating a program for our ceremony that was more than just a list of names and ceremony highlights. The first thing our program included was a timeline of our six-year relationship, filled with revealing personal moments and a healthy sense of humor. Next was a listing of our wedding party, complete with cartoon portraits of each person and quick personal descriptions. If you were a distant relative who didn't know much about your family member's fiance or our relationship at all, our program quickly brought you up to speed with a delightful smile. By the time the ceremony was over, everyone felt like family.
Different Messages For Different Segments
One of the big challenges in every wedding is the speakers and their speeches. Our ceremony had readers reading from Bible passages and our reception had speeches from our closest friends. But if you think all of these orations were addressed to the same audience, you'd be mistaken. Once again, we need to look at out audience segments: who they are what they expect.
The priest for our Catholic ceremony explained to us that the ceremony readings were an opportunity for us to hear lessons that we wanted to be reminded of during this major event. We took this to heart and told our readers, neither of whom regularly speak before an audience of over 100 people, that we, the bride and groom, were their audience. They should make us, sitting in the very front of the chapel, their primary focus for delivering their passages. The result was something beautiful and very personal. The messages were universal, so the entire audience could understand them, but by focusing the message on a single audience segment, the method of delivery became personal and held more dramatic weight. Consider this the next time you are crafting descriptive copy for your events or products: focus on a specific person or persons to address to rather than trying to catch everyone in your net.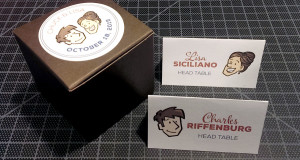 Contrast this with the speeches made by our Best Man and Matron of Honor. These speeches were meant for the audience in general, especially for those in attendance who were not as close to us. They included personal stories that few, if any, in attendance had heard before, and they served to celebrate the best of the bride and groom. This approach can be tricky, because it can end up alienating an audience by being full of in-jokes and in-stories that most people can't relate to. But when handled with skill and love, these speeches take the audience on a journey and illuminate what may have previously been unknown. Unlike our ceremony readings, which were universal, these speeches were personal, and by opening the target audience up to include everyone, it kept the stories from becoming cryptic or insular. So the next time you're crafting copy and you need to communicate something a little more technical (for example, parking or directions or local restaurants that might already be familiar to locals), think about how you would explain it to somebody totally unfamiliar with the subject.
Unify Your Audience With Awesome
A final thought about your audience and your product: find the part of your product or experience that brings your diverse audience segments together. For our wedding, the obvious point of convergence was the bride and groom, but we couldn't be all places at once. Enter the photo booth, which is quite the trend nowadays. The photo booth our photographer set up attracted guests from every segment: friends who love performing, older relatives, kids young and old— it didn't seem to matter. Like a fun house mirror, a photo booth with props drew all of our guests to it and united them in the kind of silly fun that anybody and everybody can share.
| | |
| --- | --- |
| | |
What do you have that can unite your audience into a shared experience? What can you give your audience, your patrons, that will delight the majority of them and leave them with a smile? It could be as easy as treating every one of them with amazing and personal customer service. You could include a joke on your tickets or suggest topics of conversation in your programs. You could put a crazy and unexpected piece of art in your restroom that people want to tell others about when they return to their seats. Find those delightful common denominators across all of your audience segments, and you'll have nothing but goodwill from your patrons.
Have these insights been helpful? Do you agree or disagree? Let me know in the comments or on social media!