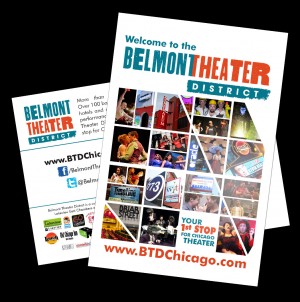 You may have recently started seeing one of my projects around town. I've been doing design work for a new organization, the Belmont Theater District. This is a venture of the Lakeview and Lakeview East chambers of commerce to bring attention to the amount of theater in their neighborhood and entice people visit. It is aimed at both locals who might not know what their own area has to offer as well as tourists who might not know that there exists a wealth of stage art outside of the expensive Loop neighborhood.
I was brought in late last year to design and consult on the BTD's visual marketing. The only thing that already existed was the logo. After a long, detailed discussion with the volunteers running the organization, I identified that one of the key aspects of the venture was that it is an umbrella organization advocating for others. The best way they could position its branding was not to have a strong personality itself, but rather to use the identity and imagery of the organizations it represents to communicate the depth and variety of the area. From there, I created the mosaic that is the current primary branding image. The grid, complete with the odd diagonals, is based on a partial map of the district itself. The photos are from the BTD's paid membership partner organizations.
So far, we have produced a postcard (above), a print ad, and a CTA transit platform ad (below, which you may have spotted at the Belmont el station). Look for some online ads and a full informational brochure on the horizon very soon as well. There will be a big push coming in a month, when the League of Chicago Theatres will be pushing its Chicago Theater Week (February 11-16). I'm be exited to see how this brand evolves as it grows and more members join.