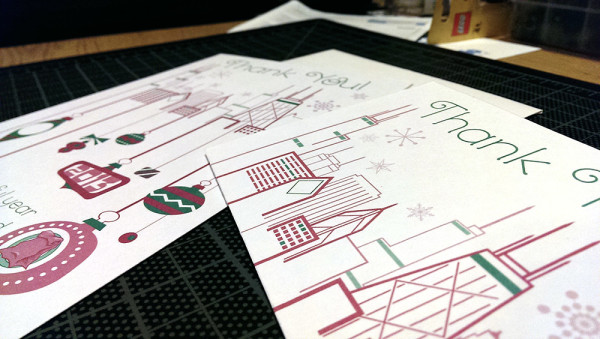 A lot of designers love creating Christmas/Holiday Season cards for the simple reason that it's a project that we can do just for ourselves, with no need to get client approval or worry about communicating a huge message. It's just a fun little side project. We use it to show off a little bit.
Since I started freelancing, I have sent a New Years card at the end of each year. It seemed a convenient way to sidestep the whole "what holiday might they be celebrating?" issue. It also gave me a great opportunity to thank each of my clients for making me a part of their projects during the year, and to let them know that I appreciate the work we've done together.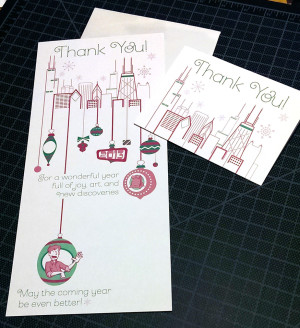 The past two years, I created hand-drawn cards to showcase my own art style. But this year, I thought I'd try something different. I'd seen a bunch of designs featuring retro ornaments, but I also really enjoy working Chicago, my home base city, into my cards. So I did both, and I'm really happy with the way I found to connect the two.
I'm also big on cards and brochures having a bit of fun with their reveals. This probably comes from my comic book background, where the turn of every page is an opportunity to surprise the reader with something new. So this card is a vertical accordion fold that expands to reveal that the lines of the city skyline are the strings that hold the ornaments. I gave myself some room at the bottom for a personal note as well.
This design was hand sketched, scanned, and then realized using Illustrator. It uses shades of two colors for effect, even though I printed them on my 4-color office printer. The paper is white card stock, hand-cut to size from 11×17″.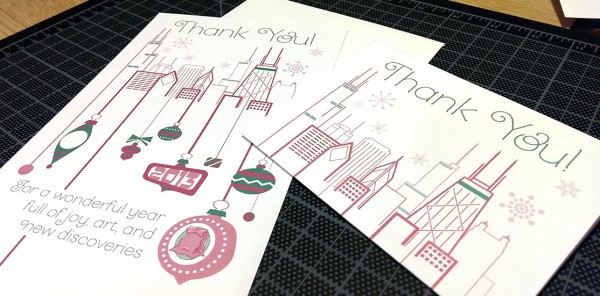 So that's what I did. Do you have any examples of holiday cards or handouts that you'd like to share?