"So enjoy yourself, do the things that matter
Cause there isn't time and space to do it all"

–Jonathan Coultan, A Talk With George
Every now and then, I think "should I be on Tumblr?"
I have an account on the microblogging site, but I've never really used it. And whenever I see an artist that I like using Tumblr, I think "I should be on there too! I could get more exposure and see more cool things." But then a day goes by and I completely forget about it.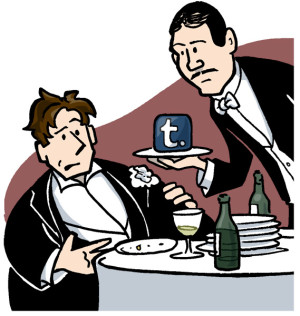 The basic truth is that you can't do it all. I work as a freelance artist and consultant to the non-profit arts scene, which means I work a lot and don't make a ton of money, but I love what I do. I also hold a volunteer position with BoHo Theatre as their marketing director, I act in a play or two each year (I recently directed one), I write this blog, and I am diligently working on wrapping up my journal comic series. And then, rarely, I like to go out with friends, see movies, watch some TV. I'm pretty active on Facebook, not so much on Twitter or Behance, sometimes look at LinkedIn, and I use Pinterest exclusively for work. I don't feel I have time to add another online social network to my roster.
Another artist could probably do all that AND rock Tumblr and Instagram as well. That's just not me. I see the time commitment to another network as less time I could spend creating. So even though Tumblr sometimes looks enticing and attractive, I've accepted that my days are already close to maximum capacity, and if I want to take on more, I'll have to sacrifice something I already have.
There are a lot of opportunities in the world, and you will never be able to take advantage of them all. Invest in the ones that are most important and let the rest go.