Last week, we looked at Vision Statements and the purpose they serve for your organization. Once you know what you are striving to achieve, then you can move to the next step: your mission statement.
Whether you're an arts advocacy non-profit or a sole-proprietorship craft seller on Etsy, you must have a mission. It tells you what your organization does—its reason for existing. If a vision is your aspiration, a mission is how you're going to get there.
The Basics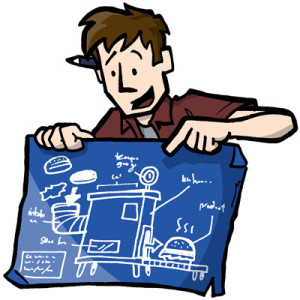 A mission statement is how you describe your organization to the world. At its most basic, a mission statement contains three parts:
Who we are
(A non-profit? A co-op? A retail outlet? A goods manufacturer? An artist collective?)
What we do
(Create performance art? Sell groceries? Support cancer research?)
How we do it
(Create original body-centric performance art in public places? Sell groceries in pop-up shops in low-income communities? Sponsor events that connect donors with researchers who need financial support?)
If you know nothing else, know this formula; it will get you 75% of the way to a good mission statement.
Why do I even need a mission statement?
Because organizations don't just exist— they act! They produce products or services and they interact with the world. If you are an arts organization and your vision is to create an artistically and philosophically curious community, how do you do that? Do you produce expensive opera performances? Do you produce free Shakespeare plays in the park? Do you erect politically-minded sculptures in public spaces? Whatever you do to achieve your vision, that's your mission statement.
But you probably already know what you want to do. You likely started your business or organization around something you enjoy or are passionate about, and the mission is just stating that. You like to paint? Great, your mission is to create paintings. But the real strength of a mission statement comes later, when you want to evaluate your organization and what it's been doing. As I said at the beginning of our guiding principles exploration, this is all about "knowing thyself."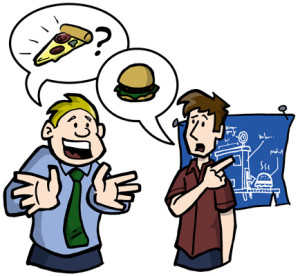 Say you are growing your business and you want to offer a new program. How do you know if it's the right idea? Or maybe you just started offering a new line of products and something seems off about it, and you need to figure out why. Here's where your mission statement comes into play. In order to evaluate whether or not an organization's offerings are on the right track, we measure them against the mission statement. You know you have a good mission statement if you can use it as a tool for self-evaluation.
Examples: The Good
Good missions statements are clear, specific, and direct. Great ones are emotionally stirring and inspirational. Some of the better missions statements I've seen are:
eBay's mission is "to provide a global online marketplace where practically anyone can trade practically anything, enabling economic opportunity around the world."

Ben & Jerry's product mission is "to make, distribute and sell the finest quality all natural ice cream and euphoric concoctions with a continued commitment to incorporating wholesome, natural ingredients and promoting business practices that respect the Earth and the Environment. Source

TimeLine Theatre Company "presents stories inspired by history that connect with today's social and political issues." Source
Each of these are clear and actionable. If somebody at Ben & Jerry's decides the company should start selling T-shirts, is that a good idea? If we look at their mission, we can evaluate if the idea supports and services the company's purpose or if it is a tangent or distraction from its core goals.
Examples: The "Wow… wait, what?"
Beware the trap of the motivational but non-specific mission. These sound great, but their lack of specificity makes it difficult to evaluate ideas against them.
Starbuck's mission is "to inspire and nurture the human spirit – one person, one cup and one neighborhood at a time." Source
Direct, to the point, and catchy, but also vague. They could be a coffee shop or a sports protector manufacturer. If Starbucks wants to open a Yoga studio, is that in line with its mission? It seems like it. Would that be a good idea?
TED's mission is: "Spreading Ideas." Source
This mission fails in two of the three basic parts of a mission statement: it doesn't say who TED is or how it accomplishes its goals. Is TED a museum? A television broadcaster? A 'zine publisher? All three in one?
Examples: The Zzzzzzzzzzzzzzzzz
You can smell a bad mission statement from far off by the fluffy vapor of vague buzzwords words surrounding it, the kind that make it sound important, but don't really communicate anything. The most notorious examples are in both major Fortune 500 companies AND the arts. One egregious example:
"G.M. is a multinational corporation engaged in socially responsible operations, worldwide. It is dedicated to provide products and services of such quality that our customers will receive superior value while our employees and business partners will share in our success and our stock-holders will receive a sustained superior return on their investment." Source
This is a great example of a block of words that doesn't say anything at all. What does GM make? How do they make it? What do phrases like "superior value" and "socially responsible operations" mean? They mean whatever GM needs them to mean.
Another example, which is endemic in the arts, is the "we do it all" mission:
"The Huntington Theatre Company engages, inspires, entertains and challenges audiences with theatrical productions that range from the classics to new works; we train and support the next generation of theatre artists; we provide arts education programs that promote life-long learning to a diverse community; and we celebrate the essential power of the theatre to illuminate our common humanity." Source
How is this theater different from any other theater? What programs could they offer that wouldn't fit inside this big tent? If your mission doesn't allow you to make value decisions about programming and its relevance to your purpose, then it is not a useful tool.
Extra Credit: Community
There is one more part to a good mission that most organizations leave out, and that is a target community. Many times it's left out because it can be limiting or seem exclusionary. However, even if you don't include it in your official mission statement, you have to think about it: who are you targeting with your actions?
The best way to approach this is not with demographics, but rather with "tribes." Seth Godin describes a tribe as "a group of people connected to one another, connected to a leader, and connected to an idea… A group needs only two things to be a tribe: a shared interest and a way to communicate." Perhaps the tribe you are speaking to or creating for is geographical: it's your local city or neighborhood. Perhaps it's people with a college education who enjoy intellectual pursuits. Perhaps it is anyone who has been touched by cancer. There is usually something that unites that people that your organization is reaching out to. And knowing that aspect and how the mechanism of your mission interacts with it will give you amazing insight into future action.
Next week we'll look at the final piece of the Guiding Principles puzzle: Values. In the meantime, give me a shout in the comments or on Facebook or Twitter if these ideas strike a chord.