This is the second of five posts on the topics of my presentation at New Hope Academy's Ask An Expert Day. Check them all out here!
#2. Take the Non-Linear Path
Not long ago, I read a paper called What Makes You So Interesting? which examined the traits common among individuals that people surveyed thought of as interesting. The most eye-opening finding was that "Interesting People Have Non-linear Life Paths: Instead of going to college, graduating, finding a job, finding a spouse and then settling down, the lives of [interesting people] took tangential paths. Because [they] lived lives of trial and error, they were sought after for their unique perspectives."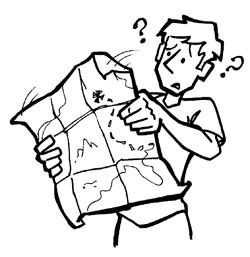 I found this perspective most enlightening because it is the path that I have taken. In high school, my well-meaning family and teachers insisted that I should persue "art" because I had talent. However, nobody was able to suggest a definite career path. If a student was into math and logical reasoning, perhaps you'd suggest they become a physicist, a scientist, a computer programmer, or an electrician. But because nobody knew what was out there, I was simply pointed in the direction of the intangible label "artist."
So I went to community college and dutifully studied "art," picking up color theory, life drawing, and composition skills, as well as philosophy, writing, literature, and theatre. But when it was time to choose a big university, I was still stumped. What was a major for an "artist?" Illustration? Graphic design? Painting? And what jobs were out there?
Rather on a whim, I chose to combine my love of storytelling with my love of art and study comic books, even though I had never gravitated toward comics in the past and didn't know a thing about how that would translate into a job. I moved to Savannah, Georgia— a thousand miles away from my family— and made a go of this comic book thing. Within a year, I fell in love with acting at the college's new theatre program and pursued that while getting my comic book degree. Before I graduated though, I knew I needed to become an actor. I stayed on to study theatre for real, and did some film work as well. Hey, at least "actor" was at a little less abstract than "artist."
I moved to Chicago to pursue acting and ended up falling in with some theatre companies who really needed advertising help. In art school, I had been warned that the advertising and marketing worlds were soulless places, but this was different. This was selling something I believed in. I juggled acting, volunteering for small theatres, and working as a retail shipping expert for six years. And the next thing I know, the economy tanks, I take a leap, and now I'm a freelance artist creating advertising artwork for mid-sized theatres throughout Chicago. What a strange and circuitous journey from "you should go into art" to designing for live theatre!
And I wouldn't have had it any other way. This path forced me to understand myself and why I was doing what I was doing. It gave me the freedom to change my mind and my direction in life without the burden of abandoning years and years of investment and training. And it exposed me to a wealth of experiences that have shaped who I am– and everything an artist produces is informed by their experiences.
So take the non-linear path! Explore the world. Pursue life on your own terms and become richer because you are investing in and relishing the process, not the end product. The art that you end producing will be richer because of it.