In my senior year of undergrad, several of my classmates and I went to an elementary school classroom to teach the kids cartooning and comics. It was kind of a disaster. While we tried valiantly to get the kids to draw their own comics strips, we were instead met with a barrage of "Draw Batman!", "Draw Pikachu!", "Draw Random Cartoon Character You've Never Heard Of!" This incident came back to me the moment I agreed to be a guest speaking at an Ask The Expert Day at New Hope Academy last week in Niles.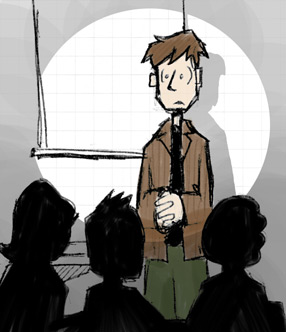 NHA is a tiny little school of about 60 kids, 6th through 12th grades, who are smart and creative, but have some form of emotional or developmental trouble that makes regular school difficult for them (ADHD, autism, emotional disabilities, etc.) At least, that's the description on their website. I had no idea what to expect from these kids when I arrived other than that they were in some way interested in the arts. Interestingly, I was also the youngest expert asked to attend by perhaps 20 years. The other experts included an IT professional with 30 years experience, a member of the school board, and a veterinarian. Immediately, I felt a little inferior in the position of "Expert." However, this made me closer in age to these young adults and nearer the beginning of my career path, so I felt I could speak a lot better to the first steps they could take to become a professional artist.
Soon, I discovered that I had nothing to be nervous about. The students were uniformly polite, eager, and and inquisitive. So I basically told them all about me— from my unchallenging high school art program through college and all the way up to where I am today, getting paid to draw, design, and be an all around creative resource. They were filled with the usual high school anxieties: what to do about college, what is out there for artist occupations, how do you get started, is being an artist even feasible? All that on top of normal high school social issues and any other difficulties they might face emotionally. In fact, they reminded me a lot of my little brother who recently graduated from a high school similar to this one. His main difficulty was that he didn't respond to the inflexible way the "mainstream" high school taught, which I can totally relate to.
In the end, I told them honestly what it seemed their teachers were hoping to hear as well: it takes drive, passion, and curiosity to go down this path, but if you are willing to learn and grow and put in the work, its possible to do anything you truly want to do. You might not get rich doing it, but you can be happy. But it is definitely work.
I left the school feeling great, like I had made an impression and in a way started to give back to the enormous cosmic well of good will that has blessed me for many years now. Should I be asked to do something like this again, I'll jump at the chance. I hope you will too.
Later this week, I'll write a post covering the talk I gave and the major ideas I covered.