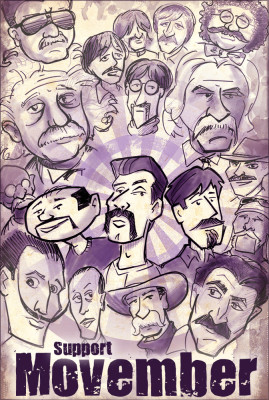 For those not in the know, Movember is a movement in which men use the month of November to grow mustaches to raise money and awareness of men's health issues, such as prostate and testicular cancer and depression. Having run a 10K for breast cancer awareness and research this summer, I figure it was only appropriate to jump on the bandwagon of men's health to balance myself out. I, along with fellow curator of 'stache Andy Marikis, am part of The TGM Disciples, led by our fearless leader Todd Kollus. While the other boys are rocking the handlebar this fall, I myself am sporting the D'Artagnan
While this may not require the training and effort of the Susan G. Koman 10K, the effort is still for a great cause. And to show that we are in good company, I took a few hours this week to sketch out some mustachioed role models joining us in spirit on our quest for healthier men folks everywhere. In case my scribbles are incomprehensible, do your best to identify: mathematical genius Albert Einstein, the immortal Coach Ditka, all four of The Beatles, crazy film critic Gene Shalit, strong man Hulk Hogan, Gahndi, a grumpy Mark Twain, mustache-in-chief Tom Selleck, creepster John Waters, Salvador Dali, grandfather-of-all-staches Sam Elliot, and someone who was supposed to be Burt Reynolds but who stopped off for a drink somewhere between my brain and the paper and was instead replaced by a total stranger.
If you've enjoy this little workaday diversion, might I suggest you donate to our team. All of your money goes to a great cause!